Psalm 120, 121, 122 | 133, 134, 135
Ephesians vi. 10
MY brethren, be strong in the Lord, and in the power of his might. Put on the whole armour of God, that ye may be able to stand against the wiles of the devil. For we wrestle not against flesh and blood, but against principalities, against powers, against the rulers of the darkness of this world, against spiritual wickedness in high places. Wherefore take unto you the whole armour of God, that ye may be able to withstand in the evil day, and having done all, to stand. Stand therefore, having your loins girt about with truth, and having on the breastplate of righteousness; and your feet shod with the preparation of the gospel of peace; above all, taking the shield of faith, wherewith ye shall be able to quench all the fiery darts of the wicked. And take the helmet of salvation, and the sword of the Spirit, which is the word of God: Praying always with all prayer and supplication in the Spirit, and watching thereunto with all perseverance and supplication for all saints; and for me, that utterance may be given unto me, that I may open my mouth boldly, to make known the mystery of the gospel, for which I am an ambassador in bonds: that therein I may speak boldly, as I ought to speak.
St. John iv. 46
THERE was a certain nobleman, whose son was sick at Capernaum. When he heard that Jesus was come out of Judaea into Galilee, he went unto him, and besought him that he would come down, and heal his son: for he was at the point of death. Then said Jesus unto him, Except ye see signs and wonders, ye will not believe. The nobleman saith unto him, Sir, come down ere my child die. Jesus saith unto him, Go thy way; thy son liveth. And the man believed the word that Jesus had spoken unto him, and he went his way. And as he was now going down, his servants met him, and told him, saying, Thy son liveth. Then enquired he of them the hour when he began to amend. And they said unto him, Yesterday at the seventh hour the fever left him. So the father knew that it was at the same hour, in the which Jesus said unto him, Thy son liveth: and himself believed, and his whole house. This is again the second miracle that Jesus did, when he was come out of Judaea into Galilee.
---
HOMILY
Augustine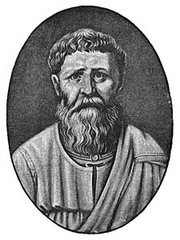 Psalm CXXIV
Psalm CXXXIV. [5645]

1. "Behold, now, bless ye the Lord, all ye servants of the Lord" (ver. 1), "who stand in the house of the Lord, in the courts of the house of our God" (ver. 2). Why has he added, "in the courts"? Courts mean the wider spaces of a house. He who stands in the courts is not straitened, is not confined, in some fashion is enlarged. Remain in this enlargement, and thou canst love thy enemy, because thou lovest not things in which an enemy could straiten thee. How canst thou be understood to stand in the courts? Stand in charity, and thou standest in the courts. Breadth lies in charity, straitness in hatred.

2. "Lift up your hands by night in the sanctuary, and bless the Lord" (ver. 2). It is easy to bless by day. What is "by day"? In prosperity. For night is a sad thing, day a cheerful. When it is well with thee, thou dost bless the Lord. Thy son was sick, and he is made whole, thou dost bless the Lord. Thy son was sick, perchance thou hast sought an astrologer, a soothsayer, perchance a curse against the Lord has come, not from thy tongue, but from thy deeds, from thy deeds and thy life. Boast not, because thou blessest with thy tongue, if thou cursest with thy life. Wherefore bless ye the Lord. When? By night. When did Job bless? When it was a sad night. All was taken away which he possessed; the children for whom his goods were stored were taken away. How sad was his night! Let us however see whether he blesseth not in the night. "The Lord gave, the Lord hath taken away; it is as the Lord willed; blessed be the name of the Lord." [5646] And black was the night....

3. "The Lord out of Zion bless thee, who made heaven and earth" (ver. 3). He exhorts many to bless, and Himself blesseth one, because He maketh one out of many, since "it is good and pleasant for brethren to dwell together in one." [5647] It is a plural number, brethren, and yet singular, to dwell together in one. Let none of you say, It cometh not to me. Knowest thou of whom he speaks, "the Lord bless thee out of Zion." He blessed one. Be one, [5648] and the blessing cometh to thee.

Let us pray in the words of Augustine.

Turn we to the Lord God, the Father Almighty, and with pure hearts offer to him, so far as our meanness can, great and true thanks, with all our hearts praying his exceeding kindness, that of his good pleasure he would deign to hear our prayers, that by his Power he would drive out the enemy from our deeds and thoughts, that he would increase our faith, guide our understandings, give us spiritual thoughts, and lead us to his bliss, through Jesus Christ his Son our Lord, who liveth and reigneth with him, in the Unity of the Holy Spirit, one God, for ever and ever. Amen.
[A prayer which he was wont to use after his Sermons and Lectures.]

NPNF (V1-08) St. Augustine


Notes:
[5645] Lat. CXXXIII. [5646] Job i. 21. [5647] Ps. cxxxiii. 1. [5648] Unum.
---

HOME