O GOD, who on the mount didst reveal to chosen witnesses thine only-begotten Son wonderfully transfigured, in raiment white and glistering; Mercifully grant that we, being delivered from the disquietude of this world, may be permitted to behold the King in his beauty, who with thee, O Father, and thee, O Holy Ghost, liveth and reigneth, one God, world without end. Amen.
I THINK it meet, as long as I am in this tabernacle, to stir you up by putting you in remembrance; knowing that shortly I must put off this my tabernacle, even as our Lord Jesus Christ hath shewed me. Moreover I will endeavour that ye may be able after my decease to have these things always in remembrance. For we have not followed cunningly devised fables, when we made known unto you the power and coming of our Lord Jesus Christ, but were eyewitnesses of his majesty. For he received from God the Father honour and glory, when there came such a voice to him from the excellent glory, This is my beloved Son, in whom I am well pleased. And this voice which came from heaven we heard, when we were with him in the holy mount.
AND it came to pass about an eight days after these sayings, he took Peter and John and James, and went up into a mountain to pray. And as he prayed, the fashion of his countenance was altered, and his raiment was white and glistering. And, behold, there talked with him two men, which were Moses and Elias: who appeared in glory, and spake of his decease which he should accomplish at Jerusalem. But Peter and they that were with him were heavy with sleep: and when they were awake, they saw his glory, and the two men that stood with him. And it came to pass, as they departed from him, Peter said unto Jesus, Master, it is good for us to be here: and let us make three tabernacles; one for thee, and one for Moses, and one for Elias: not knowing what he said. While he thus spake, there came a cloud, and overshadowed them: and they feared as they entered into the cloud. And there came a voice out of the cloud, saying, This is my beloved Son: hear him. And when the voice was past, Jesus was found alone. And they kept it close, and told no man in those days any of those things which they had seen.
Other Homilies Anastasius 700

John Chrysostom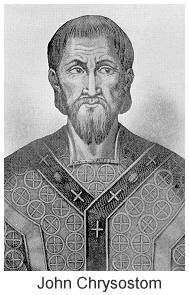 Exerpt of An Exhortation to Theodore After His Fall
For consider [Theodore], I pray the condition of the other life, so far as it is possible to consider it; for no words will suffice for an adequate description: but from the things which ar told us, as if by means of certain riddles, let us try and get some indistinct vision of it. "Pain and sorrow and sighing," we read "have fled away." What then could be more blessed than this life? It is not possible there to fear poverty and disease: it is not possible to see any one injuring, or being injured, provoking, or being provoked, or angry, or envious, or burning with any outrageous lust, or anxious concerning the supply of the necessaries of life, or bemoaning himself over the loss of some dignity and power: for all the tempest of passion in us is quelled and brought to nought, and all will be in a condition of peace, and gladness and joy, all things serene and tranquil, all will be daylight and brightness, and light, not this present light, but one excelling this in splendour as much as this excels the brightness of a lamp. For things are not concealed in that world by night, or by a gathering of clouds: bodies there are not set on fire and burned: for there is neither night nor evening there, nor cold nor heat, nor any other variation of seasons: but the condition is of a different kind, such as they only will know who have been deemed worthy of it; there is no old age there, nor any of the evils of old age, but all things relating to decay are utterly removed, and incorruptible glory reigns in every part. But greater than all these things in the perpetual enjoyment of intercourse with Christ in the company of angels, and archangels, and the higher powers. Behold now the sky, and pass through it in thought to the region beyond the sky, and consider the transfiguration to take place in the whole creation; for it will not continue to be such as it is now, but will be far more brilliant and beautiful, and just as gold glistens more brightly than lead, so will the future constitution of the universe be better than the present: even as the blessed Paul saith "Because the creation also itself shall be delivered from the bondage of corruption." For now indeed, seeing that it partakes of corruption, it is subject to many things such as bodies of this kind naturally experience: but then, having divested itself of all these things, we shall see it display its beauty in an incorruptible form: for inasmuch as it is to receive incorruptible bodies, it will in future be itself also transfigured into the nobler condition.

Nowhere in that world will there be sedition and strife: for great is the concord of the band of saints, all being ever in harmony with one another. It is not possible there to fear the devil, and the plots of demons, or the threatenings of hell, or death, either that death which now is, or the other death which is far worse than this, but every terror of this kind will have been done away.

And just as some royal child, who has been brought up in mean guise, and subject to fear and threats, lest he should deteriorate by indulgence and become unworthy of his paternal inheritance, as soon as he has attained the royal dignity, immediately exchanges all his former raiment for the purple robe, and the diadem and the crowd of body-guards, and assumes his state with much confidence, having cast out of his soul thoughts of humility and subjection, and having taken others in their place; even so will it happen then to all the saints

And to prove that these words are no empty vaunt let us journey in thought to the mountain where Christ was transfigured: let us behold him shining as He shone there; and yet even then He did not display to us all the splendour of the world to come. For that the vision was accommodated to human eyes, and not an exact manifestation of the reality is plain from the very words of the Evangelist. For what saith he? "He did shine as the Sun." But the glory of incorruptible bodies does not emit the same kind of light as this body which is corruptible, nor is it of a kind to be tolerable to mortal eyes, but needs incorruptible and immortal eyes to contemplate it. But at that time on the mountain He disclosed to them as much as it was possible for them to see without injuring the sight of the beholders; and even so they could not endure it but fell upon their faces. Tell me, if any one led thee into some bright place, where all were sitting arrayed in vestures of gold, and in the midst of the multitude pointed out one other to thee who alone had garments wrought with precious stones, and a crown upon his head, and then promised to place thee in the ranks of this people, wouldst thou not do everything to obtain this promise? Open then even now in imagination thine eyes, and look on that assembly, composed not of men such as we are, but of those who are of more value than gold and previous stones, and the beams of the sun, and all visible radiance, and not consisting of men only but of beings of much more dignity than men,-angels, archangels, thrones, dominions, principalities, powers. For as concerning the king it is not even possible to say what he is like: so completely do his beauty, his grace, his splendour, his glory, his grandeur and magnificence elude speech and thought. Shall we then, I ask, deprive ourselves of such great blessings, in order to avoid suffering for a brief period? For if we had to endure countless deaths every day, or even hell itself, for the sake of seeing Christ coming in His glory, and' being enrolled in the company of the saints, ought we not to undergo all those things? Hear what the blessed Peter says; "it is good for us to be here." But if he, when he beheld some dim image of the things to come, immediately cast away all other things out of his soul on account of the pleasure produced in it by that vision; what would any one saywhen the actual reality of the things is presented, when the palace is thrown open and it is permitted to gaze upon the King Himself, no longer darkly, or by means of a mirror, but face to face; no longer by means of faith, but by sight?

The majority it is true of those who are not very sensibly minded propose to be content with escaping hell; but I say that a far more severe punishment than hell is exclusion from the glory of the other world, and I think that one who has failed to reach it ought not to sorrow so much over the miseries of hell, as over his rejection from heaven, for this alone is more dreadful than all other things in respect of punishment.

But frequently now when we see a king, attended by a large bodyguard, enter the palace, we count those happy who are near him, and have a share in his speech and mind, and partake of all the rest of his glory; and even if we have countless blessings, we have no perception of any of them, and deem ourselves miserable when we look at the glory of those who are round about him, although we know that such splendour is slippery and insecure, both on account of wars, and plots, and envy, and because apart from these things it is not in itself worthy of any consideration. But where the king of all is concerned, he who holds not a portion of the earth but the whole circuit of it, or rather who comprehends it all in the hollow of his hand, and measures the Heavens with a span, who upholdeth all things by the word of His power, by whom all the nations are counted as nought, and as a drop of spittle;-in the case of such a king I say shall we no reckon it the most extreme punishment to miss being enrolled in that company which is round about him, but be content if we merely escape hell? and what could be more pitiable than this condition of soul? For this king does not come to judge the earth, drawn by a pair of white mules, nor tiding in a golden chariot, nor arrayed in a purple robe and diadem. How then does He come? Hear the prophets crying aloud and saying as much as it is possible to tell to men: for one saith "God shall come openly, even our God and shall not keep silence: a fire shall be kindled before Him, and a mighty tempest shall be round about Him: He shall call the Heaven from above and the earth that He may judge His people." But Esias depicts the actual punishment impending over us speaking thus: "Behold the day of the Lord cometh, inexorable, with wrath and anger; to lay the whole world desolate, and to destroy sinners out of it. For the stars of Heaven, and Orion, and the whole system of the heaven shall not give their light, and the sun shall be darkened in its going down, and the moon shall not give her light; and I will ordain evils against the whole world, and visit their sins upon the ungodly, and I will destroy the insolence of the lawless, and humble the insolence of the proud, and they who are left shall be more precious than unsmelted gold, and a man shall be more precious than the sapphire stone. For the heaven shall be disturbed and the earth shall be shaken from its foundations by reason of the fury of the wrath of the Lord of Sabaoth, in the day when His wrath shall come upon us." And again "windows" he saith "hall be opened from the Heaven, and the foundations of the earth shall be shaken the earth shall be mightily confounded, the earth shall be bent low, it shall be perplexed with great perplexity, the earth shall stagger grievously like the drunkard and the reveller; the earth shall shake as a hut, it shall fall and not be able to rise up again: for iniquity has waxed mighty therein. And God shall set His hand upon the host of the Heaven in the height in that day, and upon the kingdoms of the earth, and He shall gather together the congregation thereof into a prison, and shall shut them up in a stronghold." And Malachi speaking concordantly with these said "Behold the Lord almighty cometh, and who shall abide the day of His coming or who shall stand when He appeareth for He cometh like a refiner's fire, and like fullers soap: and He shall sit refining and purifying as it were silver, and as it were gold."

And again, "Behold," he saith, "the day of the Lord cometh, burning like an oven, and it shall consume them, and all the aliens, and all who work iniquity shall be stubble, and the day which is coming shall set fire to them saith the Lord almighty; and there shall be left neither root nor branch."

And the man greatly beloved saith "I beheld until thrones were placed, and the Ancient of Days was seated, and his raiment was white as snow, and the hair of his head was pure as wool: His throne was a flame of fire, and the wheels thereof burning fire: a stream of fire wound its way in front of Him. Thousand thousands ministered unto Him, and ten thousand times ten thousand stood before Him. The judgment was set and the books were opened."

Then after a little space "I beheld," he says, "in a vision of the night and behold" with the clouds of Heaven, one came like the Son of Man, and reached unto the Ancient of Days, and was brought near before Him, and to Him was given rule, and honor, and the kingdom, and all the people, tribes and tongues serve Him. His dominion is an everlasting dominion, which shall not pass away, and His kingdom shall not be destroyed. As for me Daniel, my spirit shuddered within me, and the visions of my head troubled me." Then all the gates of the heavenly vaults are opened, or rather the heaven itself is taken away out of the midst "for the heaven," we read "shall be rolled up like a scroll," wrapped up in the middle like the skin and covering of some tent so as to be transformed into some better shape. Then all things are full of amazement and horror and trembling: then even the angels themselves are holden by much fear, and not angels only but also archangels and thrones, and dominions, and principalities and authorities.

"For the powers" we read "of the heavens shall be shaken," because their fellow-servants are required to give an account of their life in this world. For if when a single city is bring judged before rulers in this world, all men shudder, even those who are outside the danger, when the whole world is arraigned before such a judge as this who needs no witnesses, or proofs, but independently of all these things brings forward deeds and words and thoughts, and exhibits them all as in some picture both to those who have committed the sins and to those who are ignorant of them, how is it not natural that every power should be confounded and shake? For if there were no river of fire winding by, nor any terrible angels standing by the side of the throne, but men were merely summoned some to be praised and admired, others to be dismissed with ignominy that they might not see the glory of God, ("For let the ungodly" we read "be taken away that he may not see the glory of the Lord") and if this were the only punishment would not the loss of such blessings sting the souls of those who were deprived of them more bitterly than all hell itself? For how great an evil this is cannot possibly be represented now in words; but then we shall know it clearly in the actual reality.

But now I pray add the punishment also to the scene, and imagine men not only covered with shame, and veiling their heads, and bending them low, but also being dragged along the road to the fire, and haled away to the instruments of torture and delivered over to the cruel powers, and suffering these things just at the time when all they who have practised what is good, and wrought deeds worthy of eternal life, are being crowned, and proclaimed conquerors, and presented before the royal throne.

Now these are things which will happen in that day: but the things which will follow, after these, what language can describe to us-the pleasure, the profit, the joy of being in the company of Christ? For when the soul has returned to the proper condition of nobility, and is able henceforth with much boldness to behold its Master it is impossible to say what great pleasure it derives therefrom, what great gain, rejoicing not only in the good things actually in hand, but in the persuasion that these things will never come to an end. All that gladness then cannot be described in words, nor grasped by the understanding: but in a dim kind of way, as one indicates great things by means of small ones, I will endeavour to make it manifest. For let us scrutinize those who enjoy the good things of the world in this present life, I mean wealth and power, and glory, how, exulting with delight, they reckon themselves as no longer being upon the earth, and this although the things which they are enjoying are acknowledged not to be really good, and do not abide with them, but take to flight more quickly than a dream: and even if they should even last for a little time, their favour is displayed within the limits of this present life, and cannot accompany us further. Now if these things uplift those who possess them to such a pitch of joy, what do you suppose is the condition of those souls which are invited to enjoy the countess blessings in Heaven which are always securely fixed and stable? And not only this, but also in their quantity and quality they excel present things to such an extent as never entered even the heart of man. For at the present time like an infant in the womb, even so do we dwell in this world confined in a narrow space, and unable to behold the splendour and the freedom of the world to come: but when the time of travail arrives and the present life is delivered at the day of judgment of all men whom it has contained, those who have been miscarried go from darkness into darkness, and from affliction into more grievous affliction: but those which are perfectly formed and have preserved the marks of the royal image will be presented to the king, and will take upon themselves that service which angels and archangels minister to the God of all.

I pray thee then, O friend, do not finally efface these marks, but speedily restore them, and stamp them more perfectly on thy soul. For corporeal beauty indeed God has confined within the limits of nature, but grace of soul is released from the constraint and bondage arising from that cause inasmuch as it is far superior to any bodily symmetry: and it depends entirely upon ourselves and the grace of God. For our Master, being merciful has in this special way honoured our race, that He has entrusted to the necessity of nature the inferior things which contribute nothing much to our advantage, and in their issue are matters of indifference, but of the things which are really noble He has caused us to be ourselves the artificers. For if He had placed corporeal beauty also under our control we should have been subjected to excessive anxiety, and should have wasted all our time upon things which are of no profit, and should have grievously neglected our soul.

For if, even as it is, when we have not this power in ourselves, we make violent efforts, and give ourselves up to shadow painting, and because we cannot in reality produce bodily beauty, cunningly devise imitations by means of paints, and dyes, and dressing of hair, and arrangement of garments, and pencilling of eyebrows, and many other contrivances: what leisure should we have set apart for the soul and serious matters, if we had it in our power to transfigure the body into a really symmetrical shape? For probably, if this were our business, we should not have any other, but should spend all our time upon it: decking the bondmaid with countess decorations, but letting her who is the mistress of this bond-maid lie perpetually in a state of deformity and neglect.

For this reason God, having delivered us from this vain occupation, implanted in us the power of working upon the nobler element, and he who cannot turn an ugly body into a comely one, can raise the soul, even when it has been reduced to the extremity of ugliness, to the very acme of grace, and make it so amiable and desirable that not only are good men brought to long after it but even He who is the sovereign and God of all, even as the Psalmist also when discoursing concerning this beauty, said "And the king shall have desire of thy beauty."

Seest thou not also that in the houses of prostitutes the women who are ugly and shameless would hardly be accepted by prize-fighters, and runaway slaves, and gladiators: but should any comely, well-born and modest woman, owing to some mischance, have been reduced to this necessity, no man, even amongst those who are very illustrious and great, would be ashamed of marriage with her? Now if there is so much pity amongst men, and so much disdain of glory as to release from that bondage the women who have often been disgraced in the brothel, and to place them in the position of wives, much more is this the case with God, and those souls which, owing to the usurpation of the devil, have then from their original noble condition into the harlotry of this present life. And you will find the prophets filled with examples of this kind, when they address Jerusalem; for she fell into fornication, and a novel form of it, even as Ezekiel says:

"To all harlots wages are given, but thou hast given wages to thy lovers, and there hath been perversion in thee beyond all other women," and again another saith "Thou didst sit waiting for them like a deserted bird." This one then who hath committed fornication in this fashion God calls back again. For the captivity which took place was not so much by way of vengeance as for the purpose of conversion and amendment since if God had wished to punish them out-rfaight He would not again have brought them back to their home. He would not have established their city and their temple in greater splendour than before: "For the final glory of this house" He said "shall exceed the former."

Now if God did not exclude from repentance her who who had many times committed fornication, much more will He embrace My soul, which has now fallen for the first time. For certainly there is no lover of corporeal beauty, even if he be very frantic, who is so inflamed will the love of his mistress as God longs after the salvation of our souls; and this we may perceive both from the divine Scriptures. See at least, both in the introduction of Jeremiah, and many other places of the prophets, when He is despised and contemned, how He again hastens forward and pursues the friendship of those who turn away from him; which also He Himself made dear in the Gospels saying, "O Jerusalem! Jerusalem! thou that killest the prophets and stonest them that are sent unto thee, how often would I have gathered thy children together even as a hen gathereth her chickens under her wings, and ye would not?" And Paul writing to the Corinthians said "that God was in Christ reconciling the word unto Himself, not reckoning their trespasses unto them, and having committed unto us the word of reconciliation. We are ambassadors therefore on behalf of Christ, as though God were entreating by us; we beseech you on behalf of Christ be ye reconciled to God." Consider that this has now been said to us. For it is not merely want of faith, but also an unclean life which is sufficient to work this abominate enmity. "For the carnal mind" we read "is enmity against God." Let us then break down the barrier, and hew it in pieces, and destroy it, that we may enjoy the blessed reconciliation, that we may become again the fondly beloved of God....


More on the Transfiguration